Did you know that pressure washing and steam cleaning is not the same thing! When All-N-One Maintenance pulls up on your job you won't find any of those little home improvement store pressure washers. We provide a true steam cleaning using high pressure heated water on every job to give you the deepest clean and best grease removal possible. Our high power washers are trailer mounted. Each trailer is equipped with its own 350 gallon water tank to allow us to reach areas even without access to water. Each of our steam cleaning unit's uses water up to 3500psi, heated up to 250 degrees with a 7 gallon per min flow. They are completely adjustable giving us the power to blast away graffiti, or the gentleness needed to wash down a building without damaging the paint. At All-N-One Maintenance you can rest assured that our equipment will give you the deepest clean and the
best variety of services.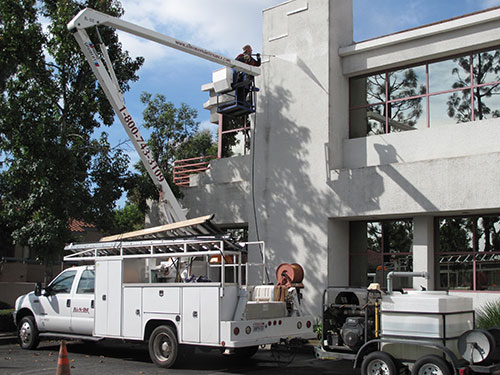 SERVICES OFFERED:
-Sidewalk steam cleaning
-Home owner's association's sidewalks, curb lines, flow lines, entries and monuments
-Algae removal
- Steam cleaning and tire mark removal at entries
-Park benches, trash cans
-Graffiti removal
-Trash Enclosures steam cleaning
-Building Wash downs
-Sandblasting
-Water-blasting
-Capture & Recycle of environmental contaminant
-Gum Removal
BENEFITS OF STEAM CLEANING:
As a licensed pressure washing company, you can be confident that we take all property environmental cautions and protective measures. As a property manager or owner you can be held financially responsible if your pressure washer does not follow environmental guidelines. "On March 15, 2004, the Clean Water Act civil administrative penalties were increased to $32,000 for Class I penalties and $157,000 for Class II penalties. The maximum administrative penalty per violation remains at $11,000 per day" (U.S. Environmental Protection Agency website www.epa.com and www.californiagreensolutions.com). At this price can you afford not to use a compliant company?
Other benefits of pressure washing include control of algae that can grow where stagnant water sits. This is especially of concern to private homeowners associations. A routine steam cleaning service will help control algae growth and prevent your gutters from filling with this slippery and unsightly photosynthetic life form.