We currently service over 100 commercial properties from one time per month to seven nights per week. We believe that a quality sweep starts with quality equipment. The President of All-N-One Maintenance invented and manufactures the Scorpion Sweeper.  The Scorpion Sweeper is marketed across the United States and Canada and is the most efficient and cost effective sweeper on the market today.  To learn more about the Scorpion Sweepers please see our equipment page.  The Scorpion sweeper is the workhorse of our parking lot division but we also utilize several other size sweepers to assure your job is completed with the right piece of equipment.
SERVICES PROVIDED: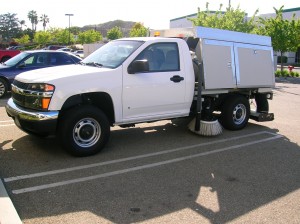 -Strip centers
-Retail Centers
-Industrial Centers
-Manufacturing plants
-Commercial Properties
-Parking garages
BENEFITS OF PARKING LOT SWEEPING:
Lets be honest, who wants to see trash blowing around in front of their neighborhood grocery store or favorite cafe?  The number one benefit of a routine parking lot sweeping schedule is the control of trash.  Your tenants want to see a clean parking lot and so do their valued customers.  We all know that first impressions are the strongest and the parking lot is the first thing people see.  Our professional and detailed sweeping service will make sure that your centers first impression is always a good one.
Our service will also help reduce sand, dirt and other abrasives that will shorten the useful life of pavement, seal coating, striping, etc.  Once these surfaces begin to wear and age, weeds and plants begin to take root further damaging the surface.  Routine parking lot sweeping helps prolong the life of these expensive investments.
When you sign up for routine sweeping you are not only protecting your investments you are taking charge of your centers future.  Owners will be happy to know that routine sweeping greatly reduces the chances of a slip-and-fall injury and is considered by most insurance companies a necessity in common area maintenance by responsible owners/managers.
PARKING LOT SWEEPING PROCEDURES:
Parking lot sweeping operations are conducted up to seven nights a week typically between the hours of 10 p.m. and 6a.m.  We start by changing trash liners in all store front trash receptacles as needed.  Once the trash bags are changed we begin blowing off all sidewalks, walkways, corners, loading docks and any other areas not accessible to the sweeper into the trucks sweeping path.  We then proceed to sweep the parking lot, curb lines, back alleys, and entrances clean of debris.   We take a final drive through the center and make sure everything is clean before moving on to the next property.